LOOKING FOR A
HEAD OF OPERATIONS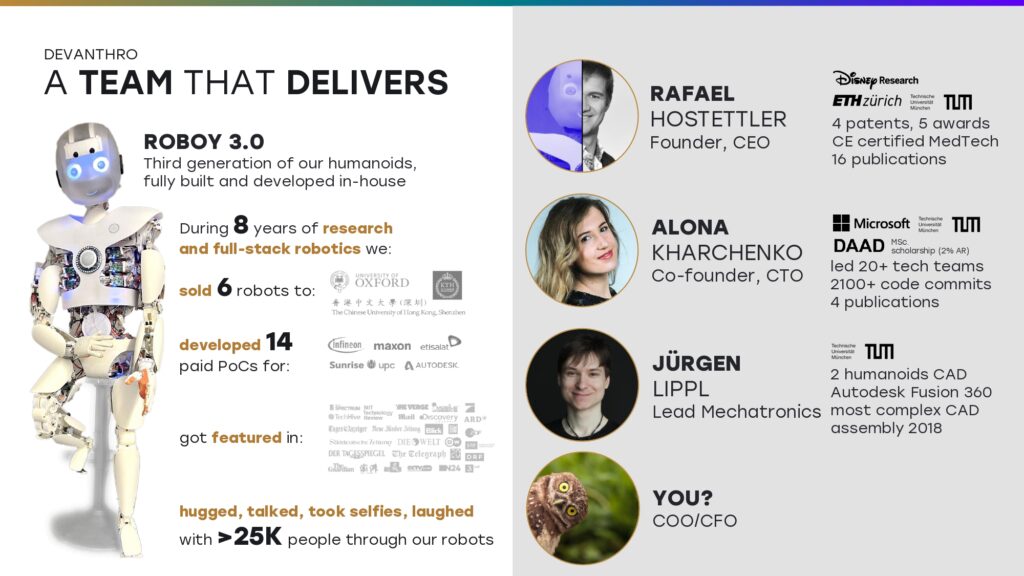 Devanthro is a deep tech startup creating the next step in human communication: robodies – remote robotic bodies for humans.
Imagine FaceTime, but wherever you call, you have a body – to move around, touch things and experience the physical world thousands of kilometers away. Sounds unreal? Well, it's not: we built one, it works and you can try it! And here's a video.
Fueled by the desire to bring this technology to millions of people, we are now looking for an entrepreneurial person with the power to wrestle our phantasies into reality and a get-sh*t-done attitude to build and grow our business together.
responsibilities
Daily operations
deduce tactics from our strategies and turn them into operative success
own all operative business processes
ensure they run smoothly
(eventually under ISO 13485)
develop the individuals into a tight-knit, successful & happy team
finance operations
Business relationships
build, grow and maintain strategic partnerships
contract review & negotiation with leadership team
operative support with investor relations
ensure communication & reporting with external stakeholders
own operative relationships (to HR, tax consultant, suppliers, …)
YOUR profile
you care deeply about Devanthro's purpose
you have an affinity & love for the complex – we're a deep tech company going for care after all.
you are open, precise and reliable
you have a solid track record in growing organizations, including at least 3 years of senior leadership experience
you thrive in face of hardship
you're a relentless executor, excited by complex projects
you deeply care about people & lead by example
your German and English are fluent
what we offer
equity stake in the company
competitive salary
or
Like what you read? Ping us at founders@devanthro.com