EXPERIENCE ROBODY YOURSELF
Seeing a Robody on the internet is one thing. Yet another is interacting with one. And even more life-changing is becoming one. Put on a simple VR headset and experience what it means to become a Robody yourself.
We will keep this page updated, with planned upcoming experiences where public access is possible (e.g. fairs) – but if you wish to work with us, get a Robody for an event or have other crazy ideas, just let us know.
SELECTION OF PREVIOUS EXPERIENCES
Hannover Fair 2023 – 17 – 21.4.2023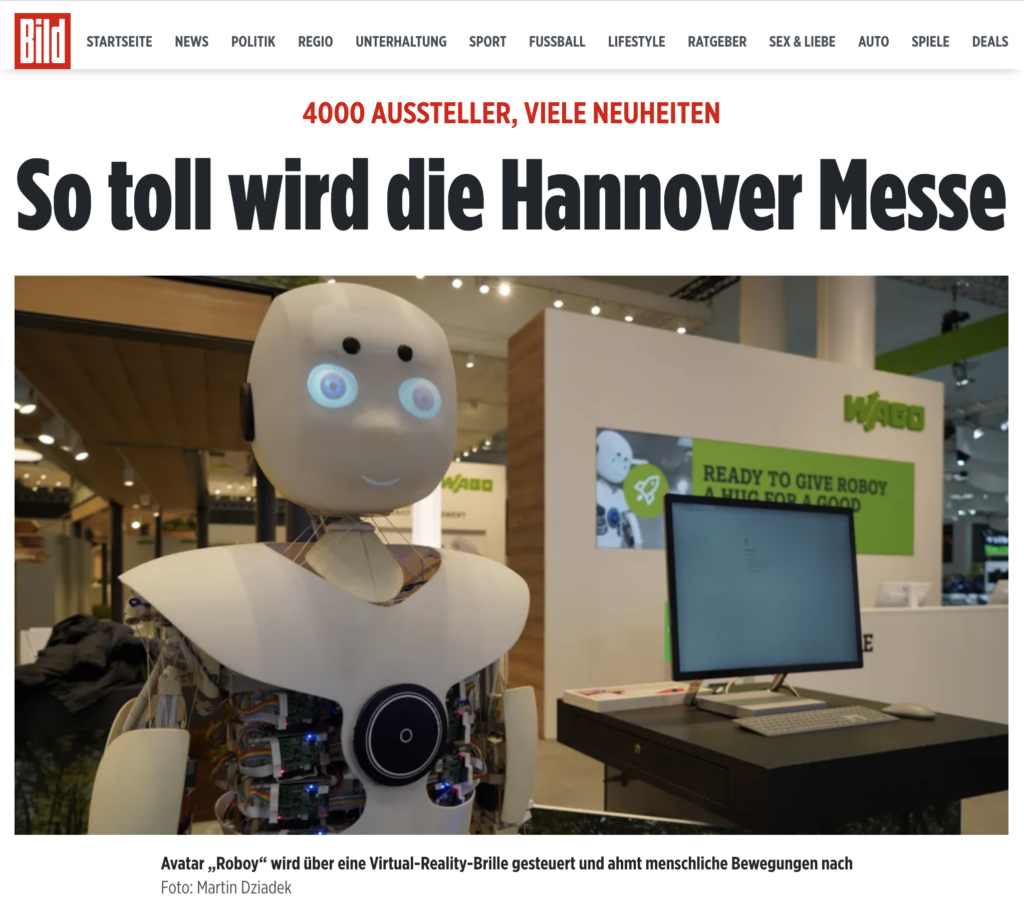 Back at Hannover Messe in our biggest setup yet, we collaborate with WAGO and Fruchtalarm to make our robody not only the most hugged robotic system – but also put a smile on hundreds (or maybe thousands?) of children with cancer, as for every hug WAGO donates a fruit cocktail to Fruchtalarm gGmbH. So visit us in Hall 11, C72 and hug our robody to make a difference!
Munich – 14.3.2023 – BUILD BETTER HARDWARE
Leaving the safety of our office, Robody ventured to central Munich to the Build Better Hardware Vol. 3 event! Rafael was at the event like any other visitor, talked to the attendants, laughed and pitched. Except, he was in Belgium while the Robody was in Munich. Pitching from afar, Rafael showcased the advanced features of their robotic avatar, emphasising its potential to enhance the quality of life for the elderly population while easing the burden on caregivers. The audience was captivated by the presentation and the potential impact of this cutting-edge technology in transforming the future of elderly care – and also simply the fact, that a humanoid robody was present.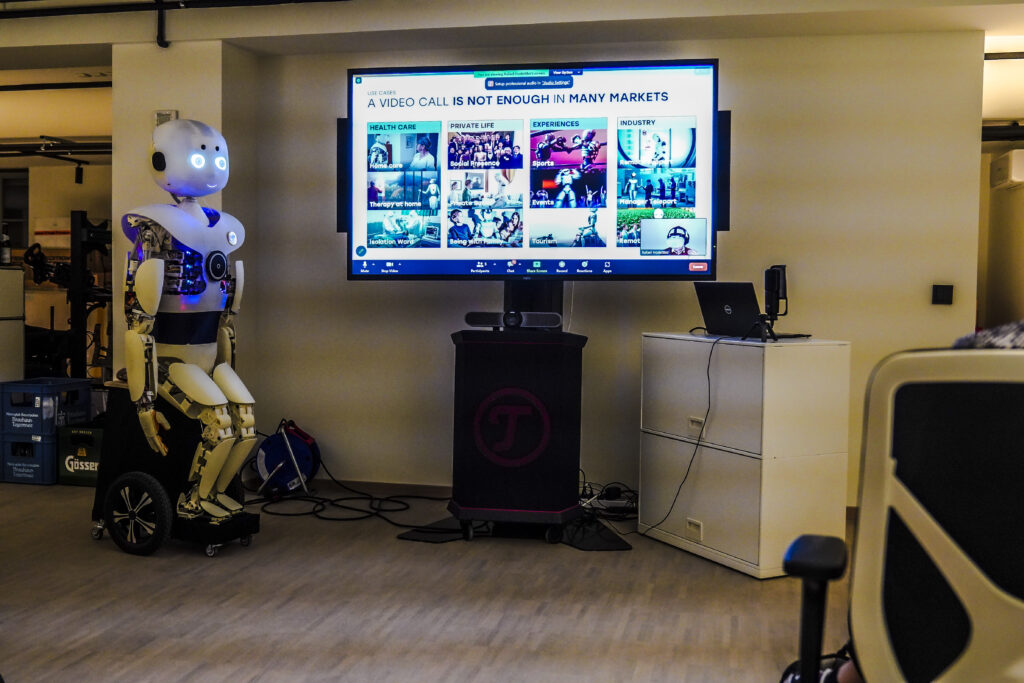 Munich – 13.2.2023 – REMOTE PITCH TO HERBERT DIESS
What to do, when a famous entrepreneur visits in Munich, but you're in Belgium? Just pitch from remote!
At the Munich Urban Colab, attendees were treated to a thrilling display of innovation as Rafael, the visionary entrepreneur behind the robodies, remotely pitched their groundbreaking idea to Herbert Diess, former CEO of Volkswagen while being in Ghent, Belgium!
Using their cutting-edge robody, Rafael captivated the audience and Diess alike, demonstrating the power of technology in bridging distances and fostering collaboration. The accompanying pictures showcase the excitement and energy of this remarkable event, proving that the future is truly here. They even had a great discussion on how this time – Germany could be faster than Tesla.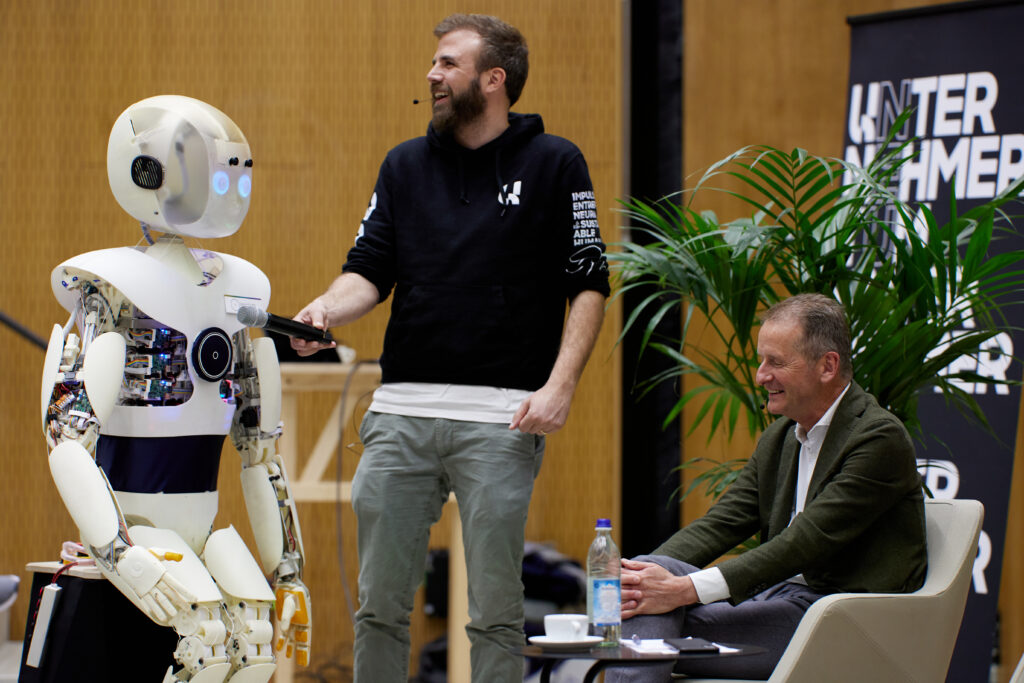 Munich – 8.2.2023 – TELEWORKSHOP
This is me. In a physical workshop on the Startup Ecosystem. In Munich. Seeing and acting through the robody as if I was actually there! I've spent 2 hours at the workshop in VR, and by now our latency and image quality is so nice, that I really felt refreshed after the experience. I could freely participate and interact with everyone, look at who's speaking and of course shake hands 😉 – so I felt like I was truly there and part of the group.
The participants agreed: "I liked it…", "You don't feel like just a machine, but it felt like it brought the person to us".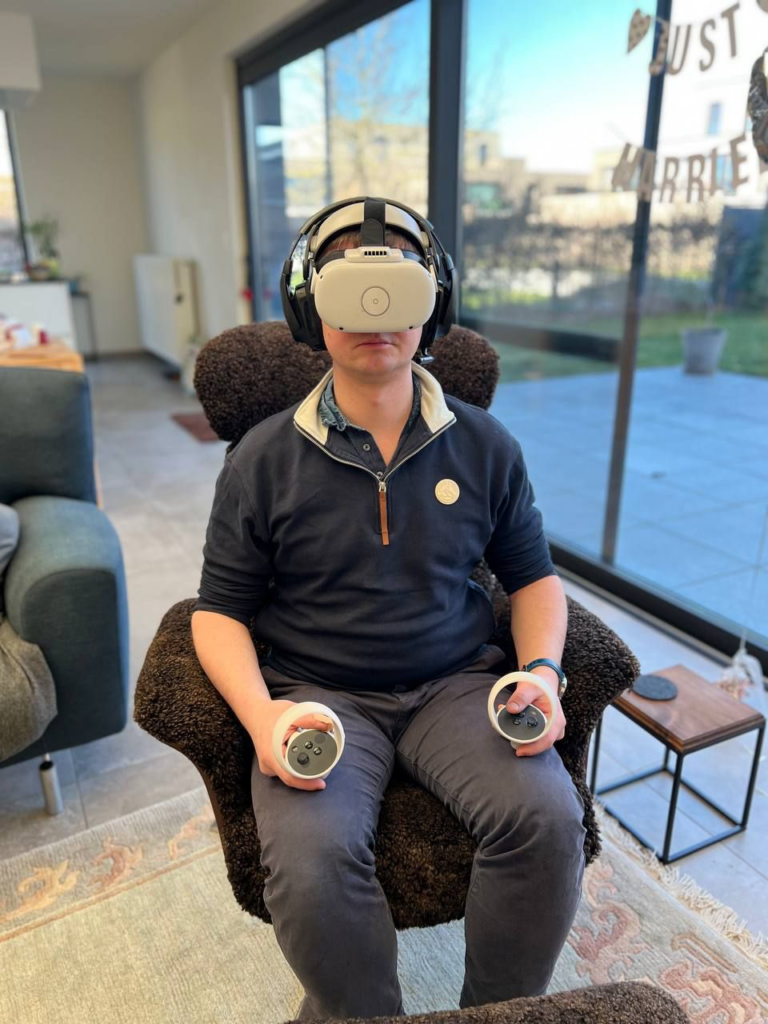 Munich – 12. – 14.1.2023 – DLD Munich 2023
At DLD, Devanthro emerged as a standout presentation, captivating attendees with its innovative approach to human-robody interaction. By fostering emotional connections between users at a distance, we showcased the potential for technology to transcend traditional boundaries and redefine our understanding of the digital landscape. We underscored the importance of empathy and emotional intelligence in the development of future technologies, emphasizing the need for a more human-centric approach to innovation. As a result, our presence at DLD sparked meaningful discussions on the role of technology in our lives and the potential for a more harmonious coexistence between humans and machines.
Munich – 29.9.2022 – DIA Conference
Robodies and Insurance Innovation? It was definitely a fascinating mix!
Munich – 25. – 27.9.2022 – BITS & PRETZELS
How to find a mobile robotic body in the masses of a startup fair? Ballooons! Many, many balloons! Robody was definitely one of the highlights at Germany's largest startup fair Bits & Pretzels 2022.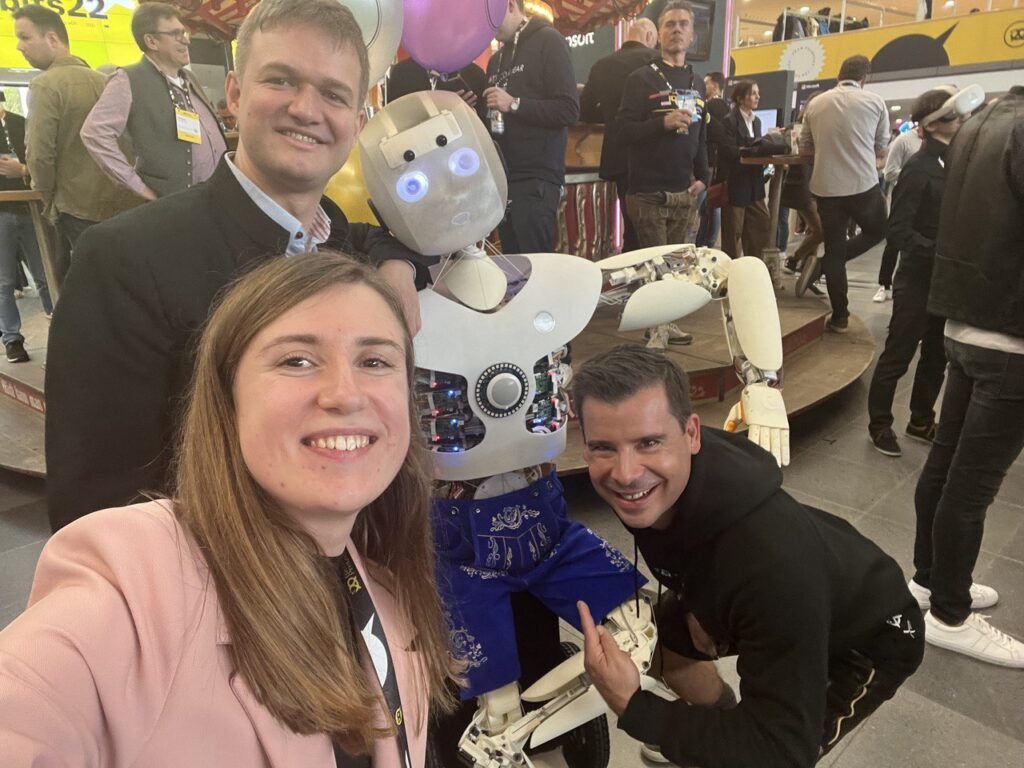 Munich – 22. – 24.7.2022 – FESTIVAL DER ZUKUNFT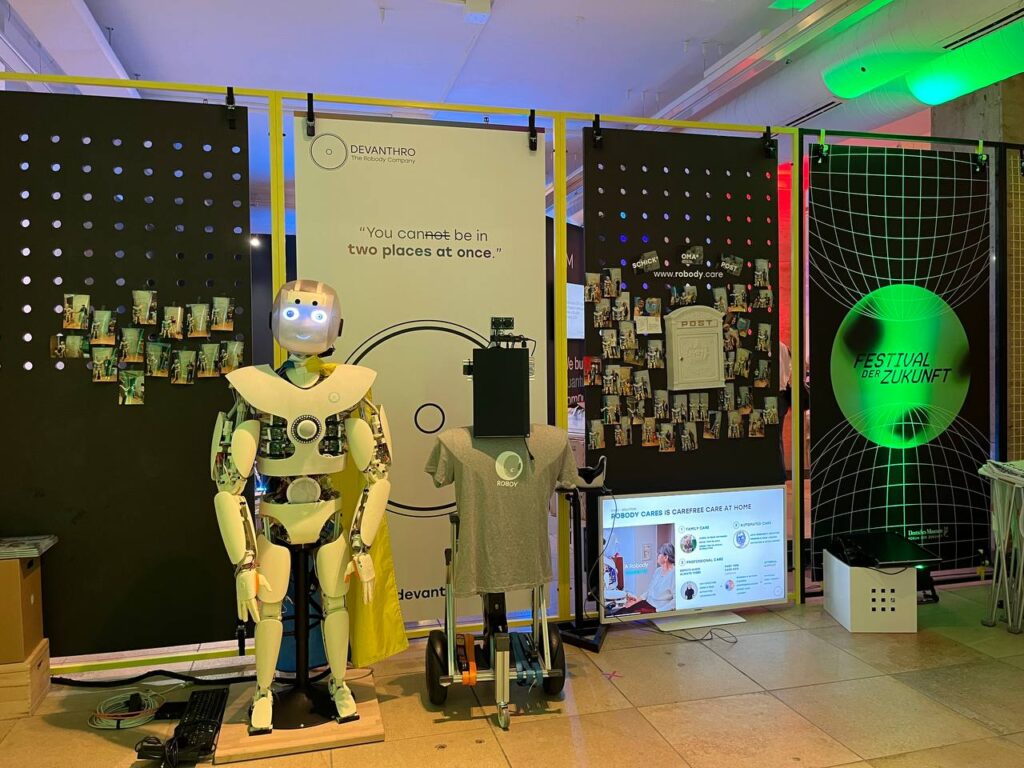 Over the 3 days, more than 200 first time operators experienced what it means to slip into a robody and have a true out of body experience.
To reach those who can't visit but will need care, we've been combining legacy technologies that are accessible for the elderly with state of the art technology that's inspirational for the visitors: "Send grandma post" – we've captured that ecstatic moment when people first realise they've teleported into another body, and printed it on post-cards to be sent to their (grand)parents.
We got tons of positive and useful feedback on Robody Cares!
More Information: https://www.festivalderzukunft.com
Sunrise Future Day – 11.11.2021, Zurich, CH
How to better show that using our technology is so easy & safe, any one can use it, than to let kids do it on a "Visit your parents work place"-day. Definitely a surefire way to make kids love their parent's company!
Partners

GITEX 2021 – 17.10.2021 – 21.10.2021, Dubai, UAE
Our first trip in a long time, and it went to Dubai! During the GITEX 2021, we've had more than 50 novel operators become a Robody themselves – and more than 1000 visitors interacting with them! That's how easy it is, to become a Robody!
Partners

Maldives – Munich scavenger hunt
8000km from Malé on the Maldives to Munich, Germany – 9 young students and the CCO of Maldives' largest Telco Ooredoo not only learnt how to control a robody across half the planet in minutes, but then had to immediately proof their newfound skill: Because suddenly, an accident in our lab needed instant help! Did our 10 times victim and CEO Rafael got saved every time? See for yourself!
Partners
ETH MEETS BERLIN 2020
rETHinking Obstacles: Telepresence and Bridges to the Future
Thriving in the face of significant adversity and overcoming obstacles is a unique human ability. Engineering embodies the resilience and inventiveness of the human spirit. It is this spirit that is, perhaps, best represented by the iconic bridges and viaducts of Switzerland. These soaring structures bridge gaps and make new connections – making the improbable possible. Join us and together we connect the dots from Zurich to Berlin, from engineering to society, and from the present to the future. "Roboy 3.0" will create a special and real-​time connection to Lora Koycheva, anthropologist from Munich. This symposium brings together a panel of unique perspectives – an anthropologist, a roboticist, and a scientist who will showcase how embodied telepresence robotics is already building exciting, unexpected, and unanticipated bridges.
Watch the full podium.
Partners